By now you probably have your stockings hung, your halls decked, and your Christmas tree isolated within an island of presents.  If you are like us, though, you may need a few more gifts before you are ready for Santa to make his annual visit.
Don't fret, though!  Offroad NC has you covered with 5 great last minute Christmas ideas for the offroader/outdoorsman in your life!
There are many great specialty OHV gifts that can be purchased online but since we're only 4 days away we chose gifts that you should conceivably be able to find at a store near you.  We hope this helps!
---
(1)  Hi-Lift Jack
Priced anywhere from $80-120 depending on model and vendor, the Hi-Lift Jack is a staple for offroad vehicle recovery and extraction and is an essential tool for all styles of offroaders.
The brand name jack can be found at 4wheelparts, small offroad shops, and even Pep Boys!
http://www.4wheelparts.com/Winches-Winch-Accessories/48-Jack.aspx?t_c=18&t_s=190&t_pt=8394&t_pn=H/LHL-484
---
(2)  Zippo Woodsman 4-in-1 Saw/Axe
Perfect for camping or use in overland travel, the Zippo Woodsman combines a hatchet, bowsaw, mallet, and tent stake puller into one rugged, compact package.  We keep one in the XJ at all times and have been pleased with it for going on a year now.
The Woodsman can be found at REI, Cabela's, Bass Pro Shops, and other outdoor recreation vendors.
http://www.rei.com/product/867959/zippo-4-in-1-woodsman-sawaxe
---
(3)  Harbor Freight U-Joint/Ball Joint Service Tool
Harbor Freight tools are not reputed as the most impressive tools in the world but, as many of us know, there are some hidden gems that are to be found if you know what you're looking for.  The U-Joint/Ball-Joint Service Tool is a staple in our garage and has made many frustrating repairs simpler, safer, and quicker.  It even comes in a nice plastic storage case!
The price has marginally increased in the past few years but it is still well worth the current sale price of $90.  Obviously, this one is at Harbor Freight.
http://www.harborfreight.com/ball-joint-service-kit-for-2wd-and-4wd-vehicles-60827.html
---
(4)  Craftsman 19pc Max Axess Socket and Ratchet Set
This little toolkit packs a major punch.  It works on multiple types of fasteners like quad, hex, 12-point, external Torx, spline and even rounded.  The real feature is the pass-through design that  allows you to easily get a grip on deep well and threaded rod applications.  The universality made us buy a second set to keep in the Jeep at all times.  It also comes with the coveted lifetime warranty of Craftsman.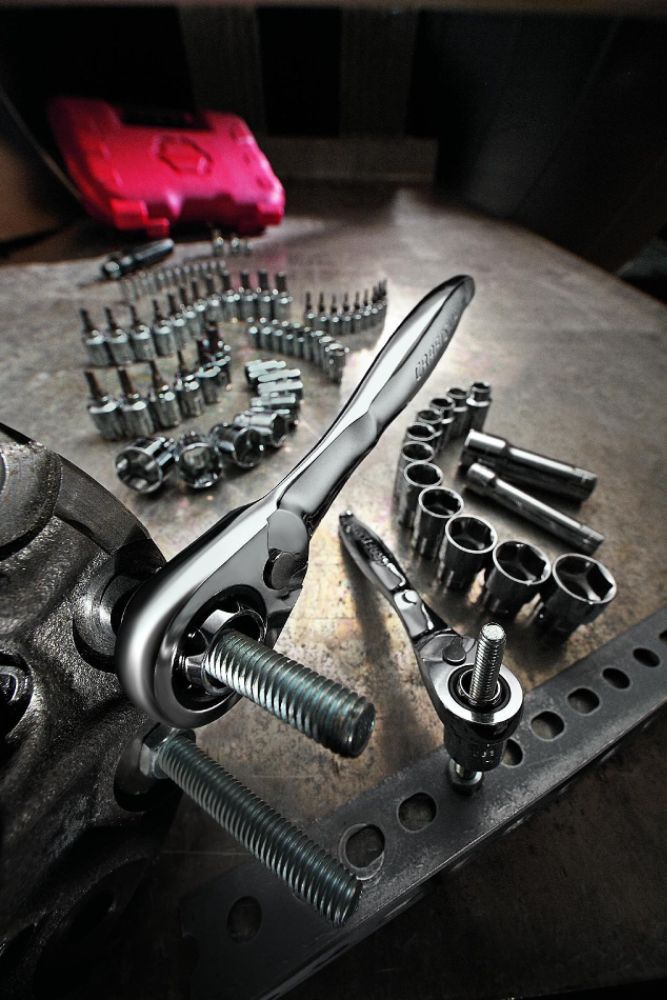 At only $30, this one is a must-have.  Available at Sears, certain Ace Hardware stores, and anywhere else Craftsman tools are sold.
http://www.craftsman.com/craftsman-19pc-universal-max-axess-socket-and-ratchet/p-00931088000P
---
(5) SureFire G2 Nitrolon
At one point or another, every offroader will find themself making repairs at nighttime or under the vehicle in a dark area.  Illuminate your repair with this tried and true flashlight.  Packing up to 120 lumens, this light is available in a variety of colors and comes with the trusty SureFire name.
Available at Cabela's, Gander Mountain, and gun stores everywhere, this light is a steal at only $60.
http://www.gandermountain.com/modperl/product/details.cgi?pdesc=SureFire-G2-Nitrolon-Flashlight&i=400541
---
We hope that helps ease your last minute gift buying process!  Merry Christmas yall!